Death of a night cyclist: how a fatal accident could change Guadalajara


The roads of Guadalajara are so dangerous that residents have started a remarkable subculture of 'night cycling'. Will the death of the movement's leader spur Mexico's second city to modernise?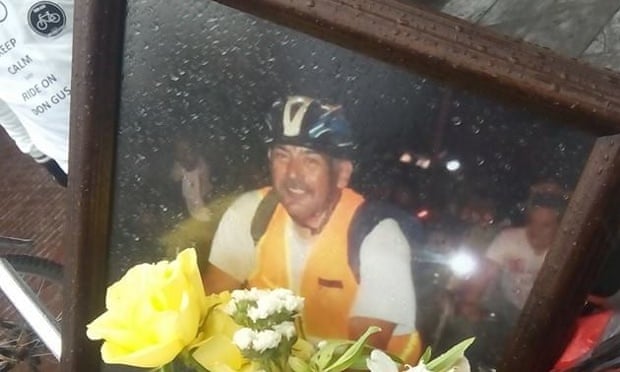 "¡Completos!" This shout of "all together!" was the trademark of Gustavo Sánchez Berlanga, leader of Guadalajara's night cyclists, and better known to riders as Don Gus.
Night cycling is huge in Mexico's second city: more than 40 night cycle groups, and hundreds of tapatios, as Guadalajara locals are nicknamed, go on these rides – in part to escape the high temperatures and often lethal traffic of the daytime, but for other reasons, too. "The health benefits are a part, but that is secondary to knowing you have a family to care and protect you," says Brendicci "Brenda" Estupiñán Cuevas, a regular night cyclist who works at the University of Guadalajara. Cuevas says that when she is riding, she can open her heart to her fellow cyclists in ways that she might not even consider with her closest friends.
All of which made the death of Don Gus in a cycling accident on 11 March a particular tragedy. Certainly, the irony of the city's strongest advocate of responsible cycling being killed on a bike has left many questioning the transport infrastructure here. But it has also strengthened the conviction of locals to transform Mexico's "pearl of the west" into a city where the proud Tapatian culture is matched by safe conditions for cyclists.
I joined a night ride with Don Gus before he was killed. His group, the Rodantes Nocturnos (Night Spins), gathered outside a Gothic church within the city's colonial centre around 10:30pm. As we streamed away, our rear lights flickering, I was exhilarated – and slightly scared – to be part of an unorthodox peloton of at least 100 cyclists. Don Gus always demanded riders use helmets and lights, often bringing spare parts, purchased out of his own pocket. "He never left anyone behind," says frequent cycling companion Felipe Diaz, noting Don Gus was known to push people's bikes for several miles if they were exhausted, or if their bike was beyond repair.
Don Gus also created the template for how to run the night cycle groups. This included shouting codes that echoed down the chain, such as "¡Alto!" ("Stop!") when approaching a traffic light or "¡Tope!" ("Bump ahead!"). At one point in our ride, a couple of younger cyclists starting weaving recklessly towards cars. Don Gus's booming voice resonated down the road, scolding them. They didn't protest, simply slipped back into the pack.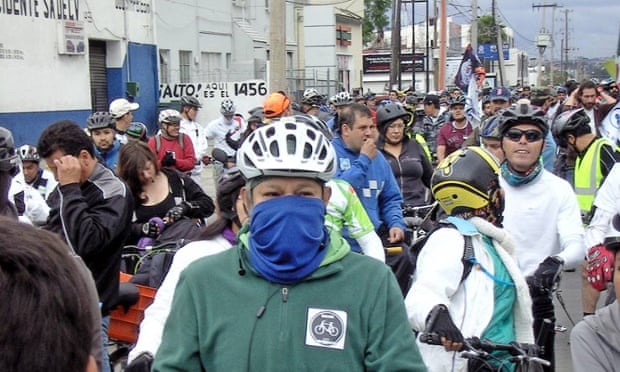 We glided under the Arches of Guadalajara, bathed in pink and blue lights. Later we felt a refreshing breeze as we passed by Bosque los Colomos, a woodland area to the north-west. In the early hours we arrived back at the church, having completed a 25-mile loop. Many of the riders had to work in just a few hours, but that didn't stop them hanging around by one of the late-night grills for a snack and a chat.
With more than 5 million people, Guadalajara has long held something of a mixed relationship with Mexico City, its far larger counterpart 300 miles to the east. Guadalajara locals often characterise the capital's residents, whom they refer to as chilangos, as arrogant and untrustworthy. Likewise, those in the capital are believed to look down on their tapatio neighbours as provincial country folk.
In many ways, Guadalajara is still very Catholic, family-oriented and conservative. The capital of the mid-western state of Jalisco, it is the birthplace of much of Mexico's archetypal culture, including tequila and mariachi music. Its historic centre has impressive colonial architecture, including the Instituto Cultural Cabañas, a world heritage site.
But the city's friendly quaintness obscures a new reality: that Guadalajara has become one of the wealthiest cities in Mexico, with a burgeoning middle class. Money has been pouring into the city from across the country and abroad, bringing plush new residential developments and luxury malls. Along with it has emerged a restless new generation with far less reverence for established convention. The cycling scene in Guadalajara is emblematic of this conflict between modern lifestyles and the limitations of tradition – and that goes for traditional urban infrastructure, too, which simply hasn't kept pace with the huge popularity of the sport.
At the weekly Sunday morning Vía RecreActiva event, running since 2004 and now regularly attracting around 200,000 people, designated streets are closed to traffic, allowing cyclists to roam, many of them on the city's free bike rentals. Bands and street performers bring a festival vibe. But the picture is far less rosy for those who attempt to commute by bike. During rush hour, the city centre is jammed with cars. According to Bicicleta Blanca, an NGO that is part of the global "ghost bike" movement to place white bicycles near the sites of fatal accidents, 167 cyclists have been killed in traffic accidents in Guadalajara since 2009.
"There are lots of narrow streets in the centre, and often the drivers simply don't see us," says Diaz. He leads a night cycle group BCrew, named after his favourite hard-rock band, Mötley Crüe. Diaz and Cuevas are part of a group who lobby for bicycle infrastructure improvements, such as installing road signs to remind motorists they are sharing the road with cyclists.
Last year, the group presented its suggestions to the local deputy of the national ruling party, the Institutional Revolutionary Party. A bill for state reforms to the mobility and transport laws, which is getting a lot of attention on social media, is awaiting congressional review. Meanwhile, the case for new cycle protection measures has been given added impetus with a new bike-share programme, Mi Bici (My Bike), which launched in December, throwing another 860 bikes into the downtown melee.
Others in the Guadalajara cycle scene are less patient with the political process. Felipe told me of a group that has started painting their own unofficial signs on the roads. Apparently they often manage to find sympathetic shop owners who give them a discount on the paint. But because the signs are not official, drivers don't respect them.
The authorities are not blamed for everything. Before each night ride, more experienced members of the group make it clear that cyclists have a responsibility, both to themselves and others, to abide by the rules of the road. Most vigilant of all was Don Gus.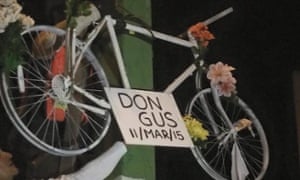 The 56-year-old was struck by a car while cycling alone in the evening. He died of his injuries in hospital. The driver said he had not seen the rider, even though Don Gus was using lights and was a big man wearing a reflective jacket.
Within hours, the social media pages of Guadalajara's cycle groups were flooded with tributes to their leader and friend. The story was quickly picked up by the local and national media in Mexico. The following Sunday, more than 1,000 cyclists took part in a special tribute ride to the night cycle king, an event that opened with a minute of applause.
A ghost bike covered in flowers now sits at the scene of the accident. Don Gus was the eighth person to die on Guadalajara's roads in 2015. Three more have followed since.
Cuevas says the night cycling groups are finding it difficult to cope without their leader. "He always knew everyone's name and made us feel welcome from the first day," she says. "The roads are in a complete mess. This is what we want to change, and the death of Don Gus can create an icon to drive this change."